Menu option: Options > Change dtSearch folder
Your Personal dtSearch Folder is where dtSearch options files and search results are saved.  When you run dtSearch the first time, dtSearch will ask where you want to put this folder.  The default location is a "UserData" folder located under your dtSearch program folder (for example, c:\Program Files\dtSearch\UserData).
A separate option setting controls the default location for new indexes.  See Indexing Options for information on this setting.
The Personal dtSearch Folder can be specified on the command-line by using the /dir command-line switch.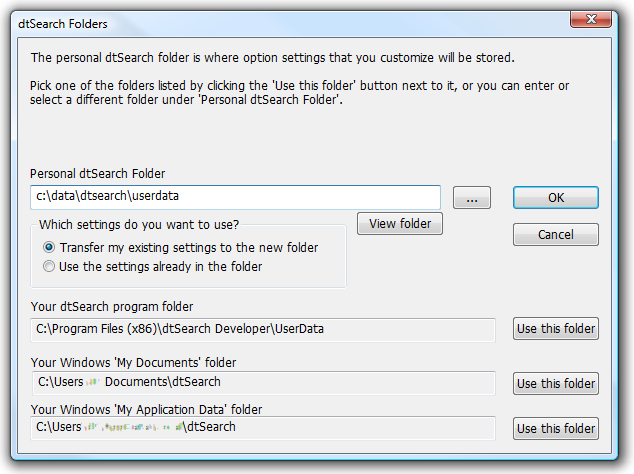 Transfer my settings to the new folder
Select this option to copy settings from an existing folder to the new folder.  Any settings in the new folder will be replaced.
Use the settings already in the folder
Select this option if the new folder already has a set of options files that you want to use.
Files in this folder include:
Your UserData folder is usually a folder named UserData under the dtSearch program folder.  To find out where your UserData folder is, click Options > dtSearch Folder.
A "template" folder under the dtSearch program folder contains template files:
| File | Purpose |
| --- | --- |
| SearchReportTemplate.rtf | Template used to generate search reports. |
| SearchListTemplate.rtf | Template used to make a printable list of search results items. |
If you change these template files, save the changed versions in your UserData folder rather than in the templates folder.  Otherwise, they may be overwritten the next time you install or upgrade dtSearch.